John Savoia
If people would like to contact you, how would you like to be contacted? (Email, Webpage)
Email is
johnasavoia@yahoo.com
or my website,
http://cronus.poned.com
What type of tools or media do you use?
For natural media, pens, pencils, markers, charcoal, or anything around, digitally, Wacom Intuos3 and either Photoshop CS2 or occasionally Painter IX.
Where is the place you would like to work or be an Intern if you had a choice?
So long as the job is providing me with experience and letting me improve my skills, its a good job to me.
Who do you think are the top character designers out there?
Stephen Hillenburg is always great, great, great, Joel Trussell is awesome, and definitely Mitch Schauer, who has done some of my favorite designs ever. I don't keep up with a lot of character designers, but those are two I have in my mind as favorites.
What are some of your favorite character designs which you have seen?
The designs in Joel Trussell's short animation "War Photograph" are simply astounding.
What is your most favorite subject to draw? And why?
I tend to draw people a lot, mainly because for me, when I draw a person, I have so much at my disposal that I can put into it. With say environments, I end up recycling lots of things, every environment will have a tree or something like that. With people I never think about, "is this too much like that one I drew the other day" I just feel more free I suppose.
What inspired you to become an Artist?
I've always loved to draw, and in highschool it dawned on me that I could be doing it as a career, and that just seemed like the greatest possible thing. Hasn't happened yet, but I still have that 16 year old kid dream.
What are some of your favorite website links that would be relevant to this Blog?
I love
http://conceptart.org
, just full of amazing artists helping eachother out and showing their stuff, and of course the websites of any artist I mentioned is bound to be full of excellent stuff.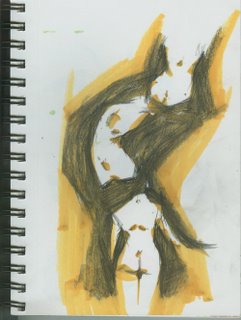 CLICK HERE TO GO BACK TO THE CHARACTER DESIGN HOMEPAGE